Share Space
Together Share Space tables and seating can be used in training applications, as well as small conference environments and cafes. Nesting capabilities to allow the product to be quickly brought out of storage and reconfigured for easy set up.
Details
Overview
Options
Images
Downloads
Typicals
Share Space
It Flips! It Gangs! It Rolls!
Share Space Tables come in a variety of finishes, shapes and sizes that enable you to configure your space quickly and easily.
It Nests! It Stacks! It Flexes!
Share Space Seating is your full package, built-in value solution. An adored aesthetic, roomy seat and flexible function all included in a single model. The urethane flex detail adds a trademark touch to this comprehensive Paoli design.
Put It All Together
Share Space family provides the flex and functionality for training spaces where reconfiguration is important. Additional components such as buffets, lecterns and presentation boards round out the full conferencing solution, all in one series.
Café Casual
Take a break from training. Share Space family expands into the break room with standing and seated height café tables, available in round or square tops.
Plug-and-Play Technology for Group Activity
Power up to six tables in a variety of configurations, ensuring your team safely connects without overloading the system. A smart chip in the modular power connectors displays a green light when units are properly connected and safe to use.
Concealed Wire Management
Share Space table leg provides a channel for routing electrical cords to the floor. Wires are camouflaged with a strip that snaps into the channel.
Share Space
Your complete conference and training solution...with a little more.
Share Space offers a variety of contours, sizes and options that allow you to configure (and re-configure!) your space exactly as you desire. Components like a presentation board, TV buffet, or a cafe table help you complete many of your ancillary areas with a single series.
2-port and 4-port grommets cover your technology needs with power connectivity and concealed wire management all incorporated in the offering.
And we didn't forget about the look! Share Space tables are available in all of our nature-inspired finishes, and the seating showcases a sleek mixed-material design with subtle curves, light profile and polished metal accent. Not to mention our design-patented flex back!
Line Offering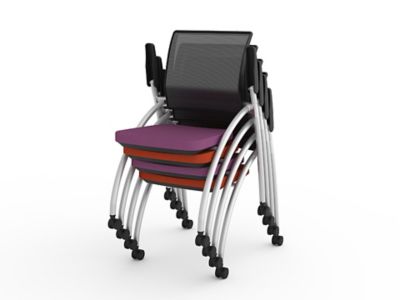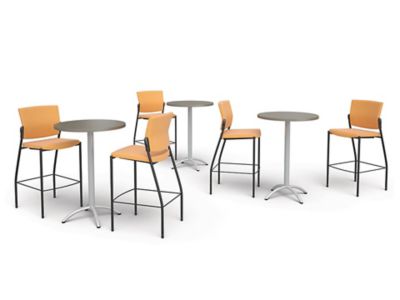 Share Space
Product Options
Upholstery
Veneer Finishes
Laminate Finishes